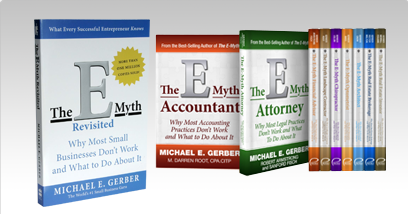 Michael E. Gerber's E-Myth Books Reviewed
Have you ever heard that you should work on your business instead of in your business?
Those are the brilliant words of Michael E. Gerber's E-Myth books.  He's written or co-written over 20 books on the subject on setting up processes and procedures that allow your business to successfully grow without taking over your life.
Many people recommend this book if you're just starting out. It can seem a bit daunting for someone thinking of setting up a side business since most of the examples are for established businesses.
What Is the E-Myth
The E-Myth is that small businesses are started by entrepreneurs risking capital to make a profit. The real reasons why people start businesses have little to do with entrepreneurship.
Understanding the Entrepreneur Myth is important to understanding why so many businesses fail.
In Michael E. Gerber's world, there are three types of people.
The Technician
A technician is the skilled person who does the work. They will continue to get frustrated with the boss or management in general.
The Manager
The Boss wants everything to be repeatable and measurable. They're the ones who always seem to be insisting upon order and having plans.  And the manager often seems to cling to status quo and fears change.
The Entrepreneur
The Entrepreneur is driven by an idea or a vision. Often the entrepreneur wants change just for the sake of change. And the entrepreneur is always looking for the next vision.
A good businessperson needs to be a little bit of all three, and know when to pull out those skills. For example, you may have a great idea, and then you need to pull in your management skills to get a plan. Finally, you need to be the technician and get the work done.
The Entrepreneurial Seizure
When the technician feels so constrained by the processes, she'll think, "I can do this better by myself." And that's called the entrepreneurial seizure.
So the technician goes into business for herself. The problem lies in that she didn't fully understand why things were set up the way they were.
Often if we take the time to learn about the structure and the history, we can then make smarter decisions for change.
If you're going to set up a side business, look for one that provides guidance for your success. The company has already done research, made mistakes, and learned the important lessons for you.
Why Most Small Businesses Fail
In actuality, many businesses start to fail when they need to scale up. The procedures that worked well in one phase don't work well in another phase.
Michael E. Gerber defined the three phases in the life of a company as:
Infancy – the Technician's Phase
Adolescence – Getting Some Help
Maturity and the Entrepreneurial Perspective
When first starting out, you may find that you seem to lose interest when things get a little difficult. Perhaps you're nervous about making recommendations.
Remember, your friends appreciate learning from you just as you do from them.
Plus, it's not rejection if they're not interested. They may ask about it later if they see your skin glowing, and you can recommend some supplements.
Should You Be an Entrepreneur
Of course I'm going to say Yes!  I think it's more than just adding in another income stream which provides stability and security in your financial life.
When you learn new skills, you become a better developed and more well-rounded person. InnerOrigin has ignited my life, and I love seeing how it has transformed many other lives for the better.
Which Books Should I Read
What I love the most about Michael E. Gerber's books is his ability to teach using storytelling. They make for a fun read. And you can get some of them as audio books where the author is the narrator.
I always love that because it adds a personal touch to the book.
So, let's look at the books.
The EMyth Revisited
Michael E. Gerber's original book was called The E-Myth. He then went back and updated and revised the book in 2001. While it's a bit dated, it still has a lot of good information in it.
You may wish to read this book if you want to have the Michael E. Gerber world drawn out for you. However, it's not essential.
Awaken the Entrepreneur Within
This book came after the E-Myth but before Beyond the E-Myth. In it, you can see Michael E. Gerber developing the idea of passion and having a mission to go with the Entrepreneurial Vision.
This book is great if you're wanting to expand your leadership qualities including the skills of strategy and storytelling to influence others.
Beyond the E-Myth
This was his latest book published in 2016. He wrote this to help people who want to create a business that can be scaled and sold.
This is a great book for starting out no matter where your business is at.
I especially enjoyed the distinction between owning a business and making a job for yourself.
By the time he wrote this book, Michael E. Gerber had expanded his original idea of just repeatable systems to include a dream, a vision, a purpose, and the mission of the business.
I think this helps keep you motivated when times get difficult.  When you have a strong "Why," then the stumbling blocks become tiny little things.
EMyth Mastery
This book is for when your business is successful and you're ready to scale it to the next level. I mention it so you don't run out and grab it first.
It's an excellent book for really planning your business.  He details the seven essential disciplines that you need to master for a "world-class business":
Enterprise Leader
Marketing Leader
Financial Leader
Management Leader
Client Fulfillment Leader
Lead Conversion Leader
Lead Generation Leader
I do recommend this book. It just shouldn't be the first one that you read of his.
My Final Thoughts
A lot of people recommend this book if you're thinking of starting a business. It is important to have measurable and repeatable procedures for getting new customers.
However, it can also seem a bit overwhelming if you're just starting out to think that you have to have a lot of documented systems before you even get your first sale.
There are some really good lessons in these books, and that's why I recommend them.  You can find them at your local bookstore or an online one.
And if you're interested in learning more about InnerOrigin, reach out and let me know I'd love the chance to share this excellent business option with you.